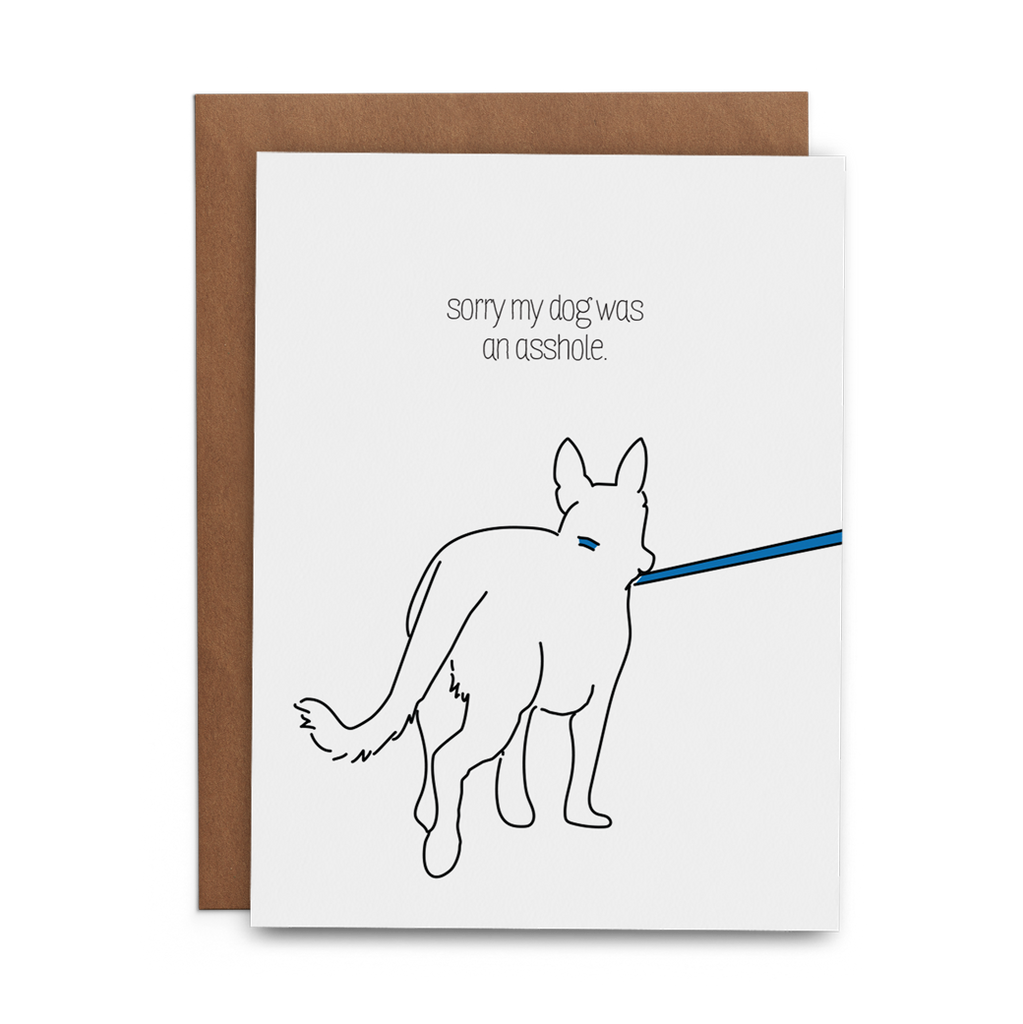 "Sorry My Dog Was an Asshole" - Dog Apology Card
Blank Inside
Size: A2 (4.25" x 5.5")
Paper: White 120lb Accent
Envelope: French Paper Kraft Speckletone
Ink: Digital
Every dog has its day, but sometimes, it's not their best one! And when our four-legged pals channel their inner "wild child," this dog apology card is here to save the day. Inspired by real-life furry faux pas at our neighborhood dog park, this card perfectly captures those "Oops, did my dog just do that?" moments we all face as proud pup parents.
We've all been there—watching in slow motion as our fur baby goes from zero to hyper in a split second. Whether it's toy possessiveness, unexpected barking matches, or just plain ol' mischievous behavior, sometimes an apology is in order. And what better way to mend fences than with a touch of humor? Our friend, with the enthusiastic German Shepherd, got the ball rolling (pun intended!) on this one. A quick text later, our designer Chris was sketching away, capturing the essence of an apologetic pup on a leash. Little did we know, it would soon become a dog-lover's favorite!
But hey, while we're on the topic of apologies – sometimes it's not the dog but the owner who needs a little nudge. That's why we introduced the "Sorry my person was an asshole" card. It's like letting your dog do the talking for those slightly awkward human moments.
In the vast world of dog apology cards, ours stands tail-waggingly apart. If this doesn't tickle your funny bone, don't fret! Dive into our diverse range of apology greeting cards – there's a card for every oops and every woof! 🐾
---
Share this Product
---
More from this collection