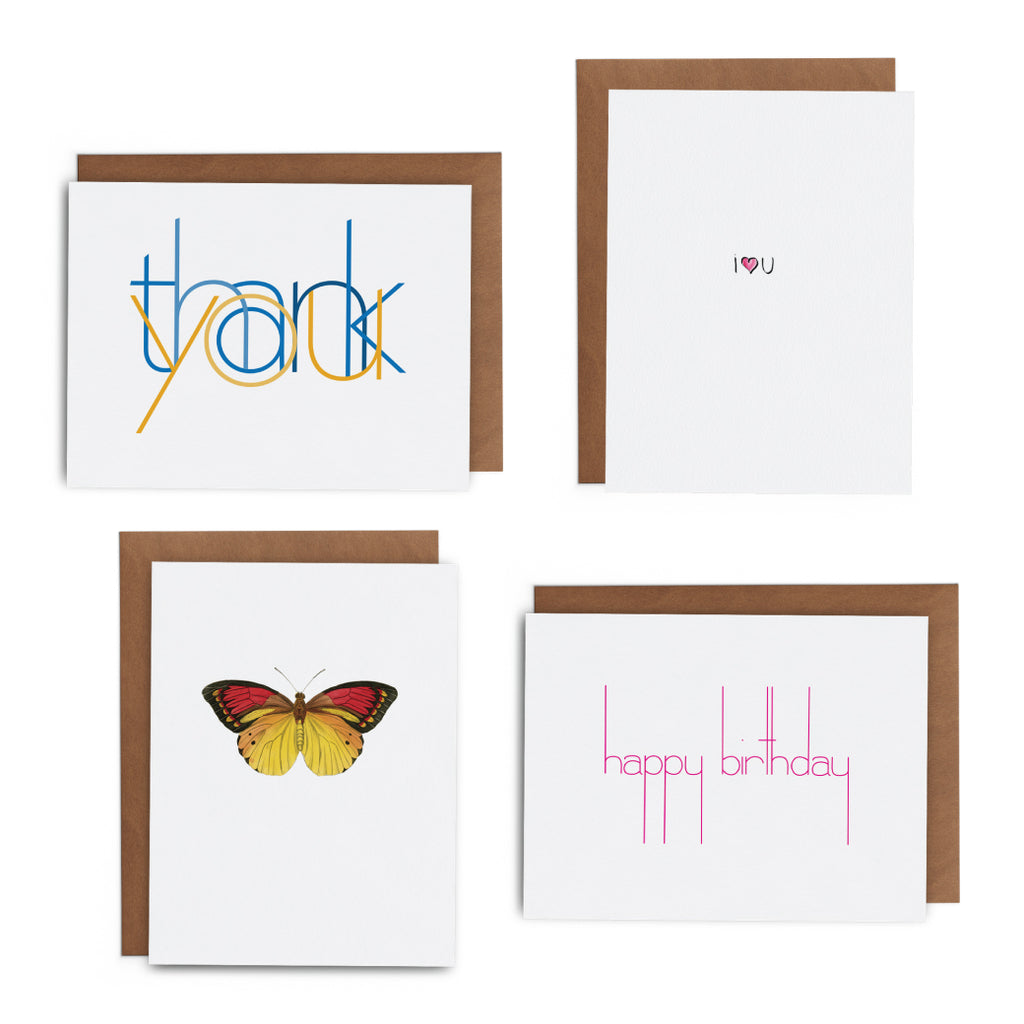 February Subscription Box
Monthly subscriptions keep you ahead of the game with one birthday card, one thank you card and two (more or less) general cards. This box was sent out in January 2019 and included a Valentine's Day card and a general card.
Cards Included:
Thank You Greeting Card
When I was in design school I was introduced to the modern design, formally, and fell in love with many aspects of it including Kabel. This font was designed in 1927 and has much of what the Bauhaus school celebrated in its construction. This design plays with the shapes found in the letters and layers those together to create and divide shapes and lines.
I Heart U
This card has been in my line for a while and is actually one of my original designs, this year, I spiced it up with a bit of glitter—a simple sentiment with a bit of sparkle is really all one needs to express how they really feel.
Butterfly Greeting Card
A request I often receive is for cards with absolutely zero sentiment so they can be used in whatever way the sender wants. This card was designed as a set of cards that was in response to news that butterfly populations around the US have been noted to be in decline.
Happy Birthday Greeting Card
I love to write! While my handwriting has nothing on fauxligraphy that is sweeping Pinterest by storm (or real calligraphy for that matter), I enjoy writing and perfecting my own handwriting. This card is my experiment with a small x-height and very long ascenders and descenders (nerdy typography talk—sorry). 
A subscription box is an excellent way to build a collection of greeting cards so that you always have the perfect card on hand for any event, whether it's known in advance or sneaks up.
If you missed this box or simply need another one, you can order the 2019 February Subscription Box. This box will not have free shipping (a perk of the subscription) but it will include 4 stamps.
---
Share this Product
---
More from this collection