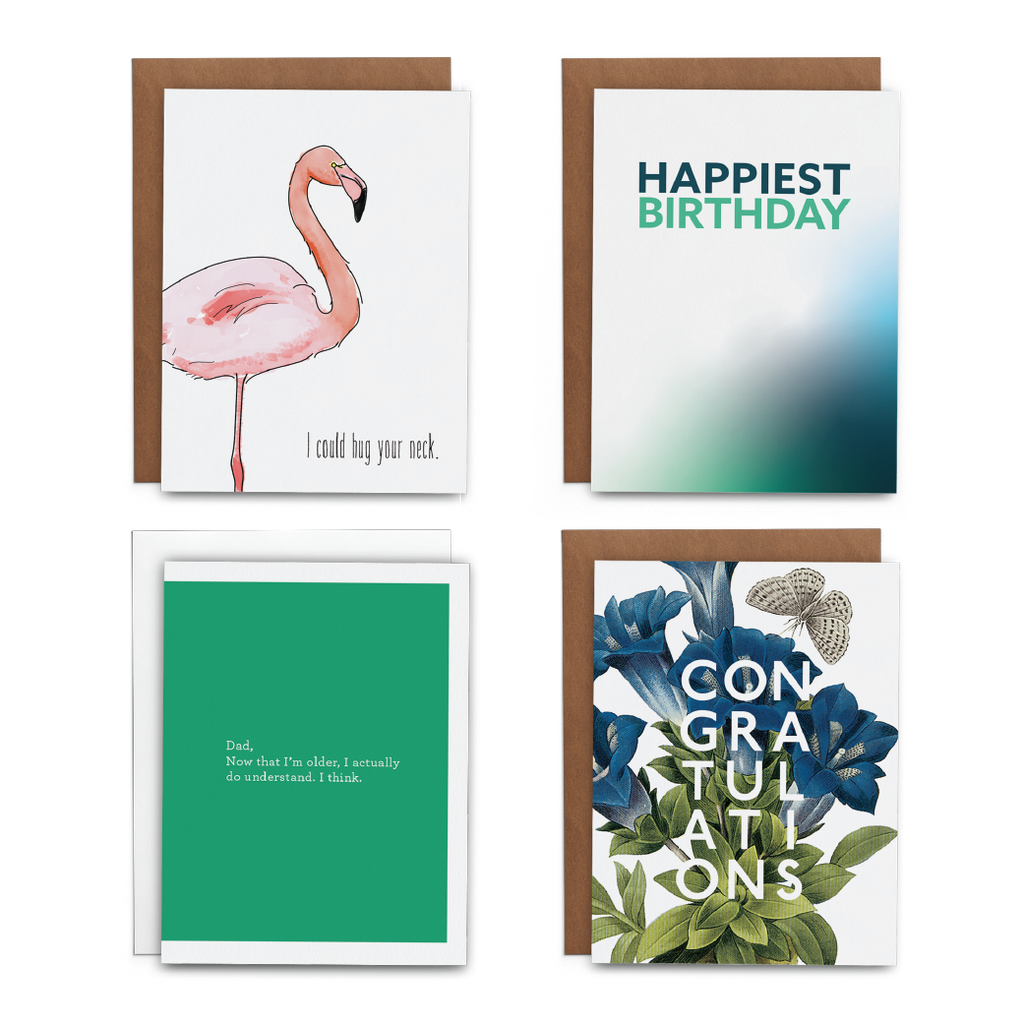 June Subscription Box
Monthly subscriptions keep you ahead of the game with one birthday card, one thank you card, and two (more or less) general cards. This box was sent out in May 2019. It included a thank you card, a birthday card, a Father's Day card, and a congratulations card:
Thank You Greeting Card

I could hug your neck. I've heard and read that this is a southern saying, but I've grown up hearing this from my family who lives in Ohio. 🤷🏻‍♂️ I've taken this classic saying and converted it from a greeting to a thank you card (be sure to check out our coasters featuring this design). The flamingo seems to be the perfect signal of summer—the combo makes for an excellent thank you for a pool party, bar-b-que, or other summer events—but really who doesn't love a flamingo all year round!

Happy Birthday Greeting Card

I teach graphic design at the local community college and was playing around with live gradients in Adobe for the poster announcing the graduating students' portfolio review—the design was such a hit, I created a birthday card using the same method and composition. This card works well for the men in your life.
Father's Day Greeting Card

This is one of the cards in my universal parent sayings. The set began with the Mother's Day card, "Mom, thanks for bringing me into this world and never actually taking me out of it." This was something my mom said to me as a child. I was surprised to learn many moms said this to their children growing up. I combed my memory for other sayings that parents say to their children which led to other cards: "Mom, thanks for never actually jerking a knot in my tail." "Dad, thanks for never actually turning the car around." Several people told me that card would not work because their dad would actually turn the car around. The older I've gotten the more this card rings true, "Dad, now that I'm older, I actually do understand. I think."

Congratulations Greeting Card
June is a busy month for celebrations: Father's Day, graduations, and weddings to name a few. This card was created as a wedding card using a found flower from an antique design. The blue flower lent itself well to "something borrowed, something blue" but this card could be used for any celebration that merits flowers and a more serious, if not modern, sensibility.

A subscription box is an excellent way to build a collection of greeting cards so that you always have the perfect card on hand for any event, whether it's known in advance or sneaks up.
If you missed this box or simply need another one, you can order the 2019 April Subscription Box. This box will not have free shipping (a perk of the subscription) but it will include 4 stamps.
---
Share this Product
---
More from this collection