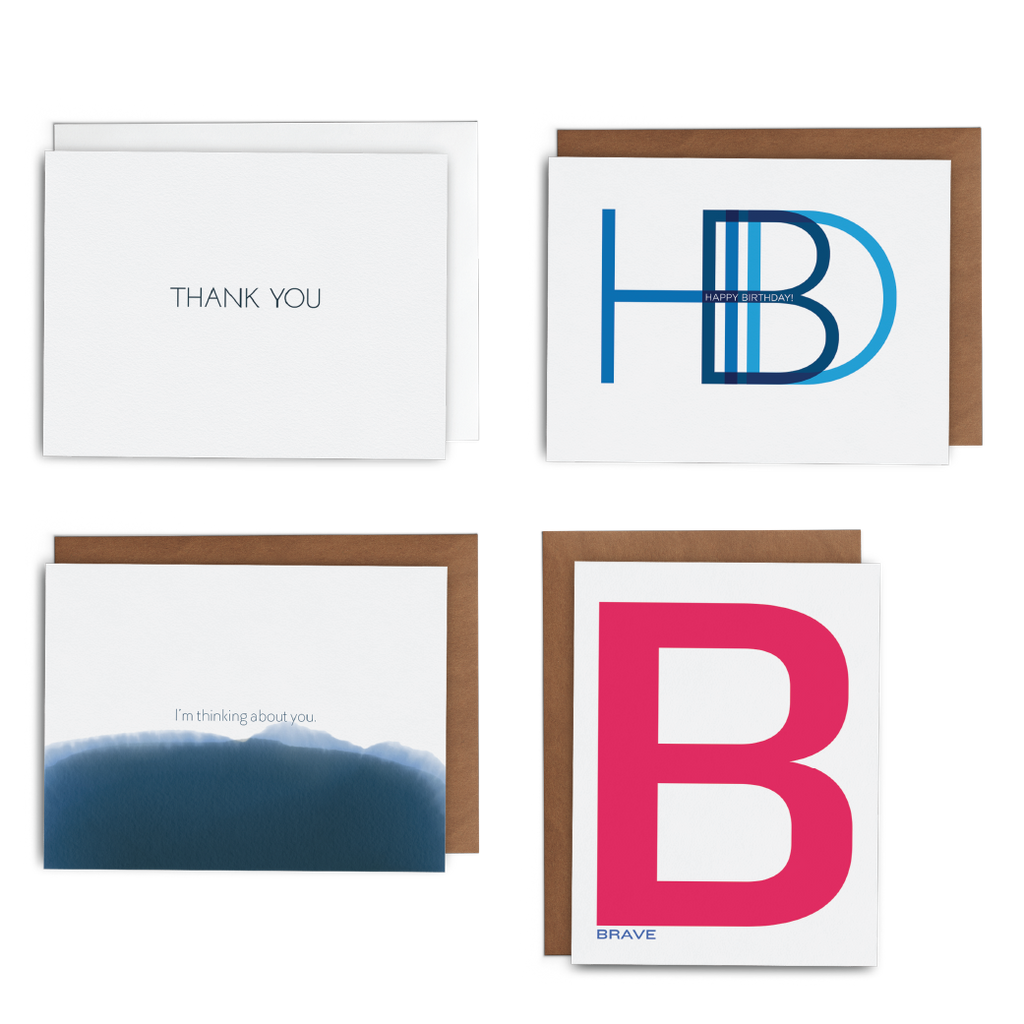 July Subscription Box
Monthly subscriptions keep you ahead of the game with one birthday card, one thank you card, and two (more or less) general cards. This box was sent out in June 2019. It included a thank you card, a birthday card, a sympathy card, and an encouragement card:
Thank You Greeting Card
This is one of my favorite thank you cards because of the many surprises it holds. First, the envelope matches the paper which is quite a departure from the Kraft envelope I typically use. When you open the envelope you will find a beautiful liner. I search high and low for the most beautiful papers I can find and line each envelope individually—it's really quite the pop of color when the receiver opens the envelope.
Happy Birthday Greeting Card
HBD packs quite the punch with this bold pairings of blue—Happy Birthday!
Sympathy Greeting Card
Blue is a color that signifies calm. I placed the simple phrase, "I'm thinking about you." over blue watercolor marks which reminded me of the ocean. No one likes to plan for the sad days in our lives or those that we love, but having this card in your library may just the thing someone needs to receive from you in their moment of need.
Encouragement Greeting Card
Sometimes our lives demand of us bravery. Give a bit of encouragement to those in your life who need to know they have a cheerleader in their corner. This card is a part of the Big Letters collection.
A subscription box is an excellent way to build a collection of greeting cards so that you always have the perfect card on hand for any event, whether it's known in advance or sneaks up.
If you missed this box or simply need another one, you can order the 2019 April Subscription Box. This box will not have free shipping (a perk of the subscription) but it will include 4 stamps.
---
Share this Product
---
More from this collection