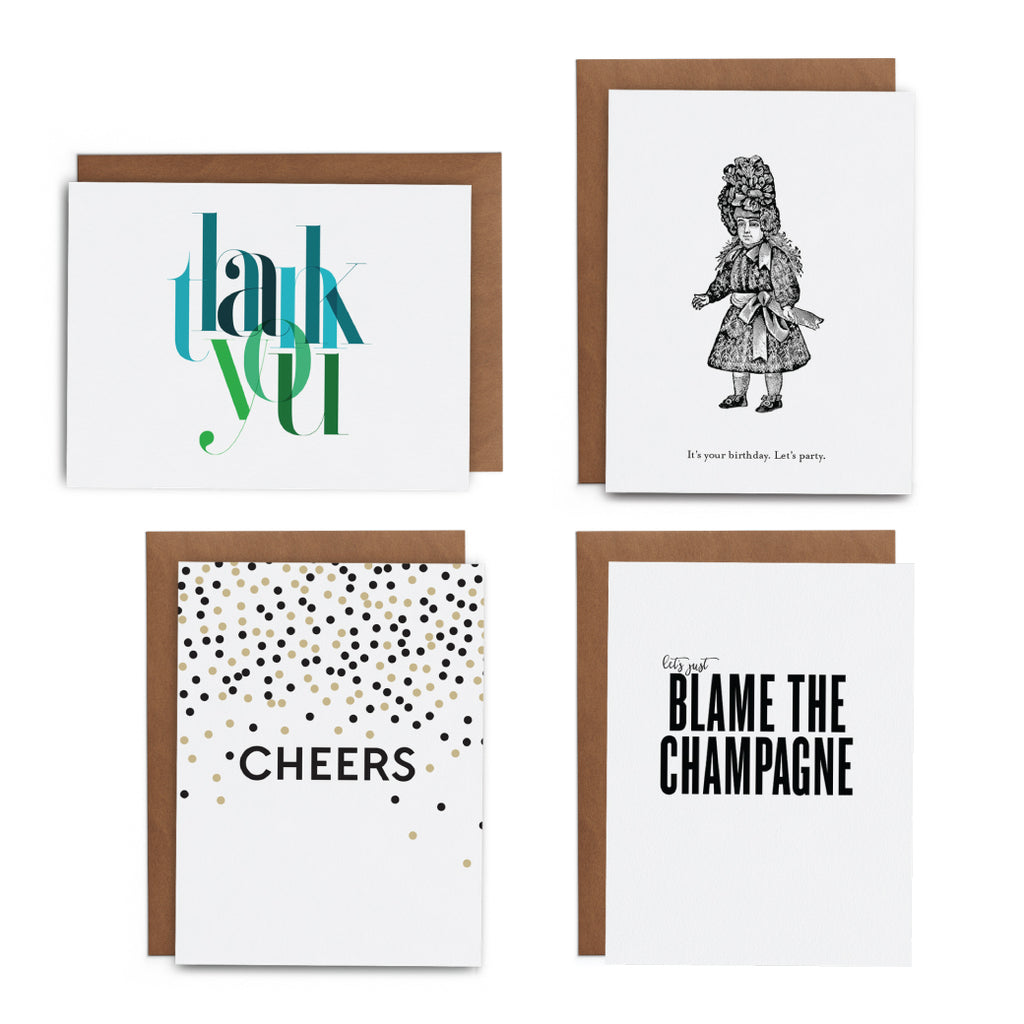 January Subscription Box
Monthly subscriptions keep you ahead of the game with one birthday card, one thank you card, and two (more or less) general cards. This box was sent out in December 2018 and included a New Year's card and a card for the day after.
Cards Included:
Thank You Greeting Card
After the holiday season, it is important to have a stack of thank you cards on hand. We have so much to be thankful for: invites to parties, gifts received, acts of kindness. I designed this card with plenty of color and my current favorite didone typeface. If you are looking for a more classic look, I have also designed this card in black, the lack of color creates some beautiful lines and shapes.
It's Your Birthday. Let's party.
When I first began designing greeting cards, I created several designs based on old fashion illustrations. Many of the illustrations are so of their time they can cause a chuckle when viewed in our current context. This card is similar to my Don we now our gay apparel greeting card—I couldn't keep that card for Christmas only.
Cheers Greeting Card
There is nothing like a little confetti to get any party off to the right start. While this card is a great card regardless of the season, it's especially apt for the beginning of the year—Happy New Year!
Let's Just Blame the Champagne Greeting Card
Parties bring out the best in us: celebration, fellowship, conversation, laughter, etc. But sometimes they can bring out the less than great side, but is it really our fault?! This card is an excellent card to send if you imbibed a bit too much; it even works if you want someone who might have imbibed too much to know that everything really is ok. 
This is a part of the Blame Collection. The collection began with Let's Just Blame the Mimosas—a fun and light card, I mean, how much trouble can you get into with a mimosa? Customers began requesting the card in their choice of spirit so the collection grew. As they say, go ahead, pick your poison!
A greeting card subscription box is an excellent way to build a collection of greeting cards so that you always have the perfect card on hand for any event, whether it's known in advance or sneaks up.
If you missed this box or simply need another one, you can order the 2019 January Subscription Box. This box will not have free shipping (a perk of the subscription) but it will include 4 stamps.
---
Share this Product
---
More from this collection